PHOTO: Pro Football Hall of Famer Dan Dierdorf and Don Coryell in St. Louis.
By TOM SHANAHAN
The NFL largely remembers Don Coryell for his dynamic Air Coryell teams in San Diego. Dan Dierdorf begs to differ.
"We saw him first in St. Louis," said Dierdorf.
Coryell's innovative passing game with the old St. Louis Cardinals was sandwiched between equally novel periods throwing the ball at San Diego State (1961-72) and during his San Diego homecoming with the Chargers (1978-1986).
Dierdorf, his Cardinals teammates and former San Diego Chargers players continue to push Coryell's case for the Pro Football Hall of Fame. Dierdorf was a two-time All-American offensive tackle at Michigan and is a College Football Hall of Famer, but he and other St. Louis teammates didn't earn their first Pro Bowl trips until playing for Coryell. That led to his Pro Football Hall of Fame bust at the museum in Canton, Ohio.
Coryell's offenses tilted the NFL's future toward throwing the ball, providing a blueprint that continues to orbit the sport. Many college and NFL passing game wizards turned out to be shooting stars that burned out, but Coryell's has stood the test of times. His influences spanned three decades of coaching that started in college and continued through two NFL franchises.
Dan Fouts, who earned his place in the Pro Football Hall of Fame playing for Coryell with the San Diego Chargers, also is a vocal backer of Coryell's case. When Dan Fouts threw for 4,082 yards in 1979, 300-yard games were rare.
Now a journeyman QB can throw for 400.
Dierdorf and Fouts are both frustrated by the simplified excuse that Coryell didn't make it to a Super Bowl.
"Quite frankly, for so long so much of the consideration for the Hall was you had to play for a Super Bowl winning team," Dierdorf said. "You were at a disadvantage making the Hall if you didn't at least appear in one. It's gotten better, but that's the albatross Don has been unable to shake. It's unfair.
"Not everybody — from a player's standpoint — was fortunate enough to be drafted by the Steelers, the Cowboys, the Dolphins or the Raiders."
Those, of course, were the dominant Super Bowl teams of Coryell's era. Coryell won a combined five division titles competing against four division rivals with Super Bowl trips, the Dallas Cowboys and Washington Redskins in the old NFC East, and against the Oakland Raiders and the Denver Broncos in the AFC West.
The Super Bowl qualification was feared as a slippery slope to prevent admission for players without the qualifier, but both Fouts and Dierdorf earned enshrinement without one on their resume. Fouts was inducted in 1993 and Dierdorf in 1996. Their ledge on Mt. Canton's slippery slope has proven secure without spillover.
For Dierdorf, his 1971 draft fate might have closed his road to Canton had it not been for Coryell taking over the Cardinals.
The franchise hadn't been to the playoffs since 1948 as the Chicago Cardinals and were buried in the old NFC East behind the Dallas Cowboys and Washington Redskins. The Cowboys used 1970 and 1971 NFC East titles as steppingstones to Super Bowls V and VI, and the Redskins won the 1972 NFC East en route to Super Bowl VII.
Yet, Coryell led St. Louis to back-to-back NFC East titles in 1974 (10-4) and 1975 (11-3). The Cardinals' 10-4 record in 1976 fell one game behind Dallas for the NFC East title and lost the tiebreaker to Washington (10-4) for a for a wild-card berth in an era of four-team playoff brackets per conference.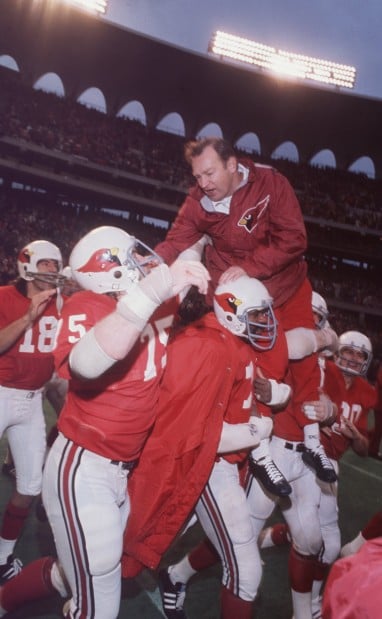 However, just one season later Coryell and the Cardinals acrimoniously parted ways. The franchise didn't win another division title until 2008, 20 years after it relocated in Arizona.
Significantly, Coryell's St. Louis success was against two defense-minded head coaches that at the time were on paths to the Pro Football Hall of Fame, Dallas' Tom Landry and Washington's George Allen. Coryell's success also countered the accepted belief still existing today that college coaches struggle to adapt to the pro game. Coryell, a College Football Hall of Famer, is the only coach with 100 wins in college and the NFL.
"I guarantee you Coryell caused Landry and Allen sleepless nights when we played them," Dierdorf said. "Dallas had Landry's 'Flex' defense. We ran them out of it. Landry had to quit playing the Flex against us."
The Flex had flummoxed the run-oriented NFL as the Cowboys won Super Bowl VI over the Miami Dolphins after losing Super Bowl V to the Baltimore Colts. In the Flex, two defensive linemen backed up a yard and a half off the line of scrimmage. That allowed middle linebacker Lee Roy Jordan to flow to the ball unblocked.
"You couldn't get to Jordan," Dierdorf said. "Well, it took Don about 30 seconds to figure out, 'Wait a minute. It's hard to rush the passer two yards off the line. We'll throw the ball on first down.' "
The Cowboys' fearsome pass rushing defensive end was Ed "Too Tall" Jones, a 6-foot-9, 271-pounder, but he wasn't so imposing to Dierdorf when the Flex required him to play off the ball.
"When I walked to the line and saw Too Tall in that squatty frog stance and a yard and a half back, he couldn't beat me to the quarterback if I was standing backward," said Dierdorf.
But Coryell's lasting influence has been much more than out game-planning Landry. He took the traditional screen pass and tweaked it with the "screen option."
Coryell had the tight end run a hook pattern at the same time the running back drifted to the right or left for a screen pass. Dierdorf explained the pulling linemen knew not to block down field until they heard the running back yell "Go!" once he had caught ball. That way the quarterback had the option to look for the tight end without the linemen drawing a flag.
"Half the time the pass went to the tight end," Dierdorf said. "We killed people with that."
Cardinals quarterback Jim Hart, who had been benched in 1972 under former coach Bob Holloway in favor of Gary Cuozzo, was returned to the starting lineup under Coryell. Hart made his first of what turned out to be four straight Pro Bowl trips — 1974 to 1977.
"Jim Hart had a cannon for an arm," Dierdorf said. "He could throw it like Terry Bradshaw. Coryell and his staff saw it right away and couldn't believe he wasn't our quarterback."
Coryell was also found a way to maximize Terry Metcalf's quickness despite his lack of size as a 5-foot-10, 185-pounder from a small school, Long Beach State. In 1975, Metcalf set an NFL record for all-purpose yards with 2,462.
Metcalf's mark was set in a 14-game season and stood 10 years until a smaller scatback, Lionel James (5-6, 171), broke it while playing for Coryell in San Diego with 2,535. The 16-game schedule began in 1978.
Something else Coryell brought to the NFL, Dierdorf said, was having offensive linemen learn the passing tree routes the wide receivers ran. The passing tree was a digital system that simplified understanding Coryell's intricate offense.
"It changed play calling verbiage in the league," Dierdorf said. "Just call the formation, '7-8-7.' It was brilliant."
Coryell devised his passing tree at San Diego State because he relied heavily on junior college transfers. The digital system made it easier for his recruits to learn the scheme in an era long before year-round football.
"He wanted us to understand the wide receivers' responsibilities when a play was called in the huddle," Dierdorf said. "The offensive linemen knew crossing patterns took longer to develop. If we knew the chances of the quarterback throwing between the numbers (hash marks) or outside the numbers, you had the option of steering the man you were blocking one way or another. It was most advantageous."
Those were among Coryell's advances to passing schemes that Sid Gillman, a Pro Football Hall of Fame coach, used in the 1960s with the American Football League Chargers. The innovations later were the foundation for Bill Walsh's "West Coast Offense" in the 1980s.
"By the time I retired in 1983," said Dierdorf, "I probably could have walked into the locker rooms of half the NFL teams and within two days played a football game because I was familiar with terminology that Coryell brought to the league."
Two Hall-of-Fame coaches are from Coryell's coaching tree, John Madden with the Oakland Raiders and Joe Gibbs with the Washington Redskins. The won Super Bowl titles and have often said they not only made the Hall thanks to Coryell's influence, they have long expected him to join them.
Similar to players, on the ledge to the slope for coaches without a winning Super Bowl stands George Allen. He only made one Super Bowl — his Redskins losing Super Bowl VII to Miami — but he was enshrined in Canton in 2002 for his legacy as a preeminent defensive coach.
Coryell not only was a preeminent offensive mind, his success was achieved while overcoming resource advantages his opponents enjoyed at both the college and NFL levels.
San Diego State was a small college program until Coryell built it to Division I status until 1969. He was inducted into the College Football Hall of Fame in 1999 and remains the only coach with 100 wins in college (127-24-3) and the NFL (114-89-1). The Cardinals were long known for owner Bill Bidwill running the franchise cheaply. Meanwhile, in Dallas, the Cowboys were considered a model for NFL stability. In Washington, Redskins president Edward Bennett Williams said upon firing Allen, "George was given an unlimited budget and he exceeded it."
Nevertheless, Coryell's Cardinals were 31-11 in their run of playoff seasons.
"When we went on that three-year run that meant we were beating the Dallas Cowboys of Roger Staubach, Randy White, Too Tall Jones, Harvey Martin, Cliff Harris, Charlie Waters, Mel Renfro and Lee Roy Jordan," Dierdorf sad. "That was no small achievement. We had been a team in dire straits my first two years (1971 and 1972). We got a run that would have continued, but Don had a falling out with the management."
In San Diego, a similar frustrating fate befell Coryell. The Raiders had won the Super Bowl title in 1976 and the Denver Broncos had been to the Super Bowl in 1977, but with Coryell the Chargers won three straight AFC West titles from 1979 to 1981 and a wild-card berth in 1982.
Then-Chargers owner Gene Klein's trade of Pro Football Hall of Fame defensive end Fred Dean in 1981 to San Francisco is most often cited as the decline of San Diego's defense. Fouts, though, also says it began with management firing defensive coordinator Jackie Simpson against Coryell's wishes following the 1980 season.
Coryell last coached in 1986 when the Chargers, then under owner Alex Spanos, firmed him midway through the season. He died in 2010 at age 85. Madden, Gibbs and Fouts spoke at his memorial on the San Diego State campus; they passionately proclaimed their mentor belongs with them in Canton.
"Don's influence on the NFL is everywhere," Dierdorf said. "It's a shame he's gone. I hope he makes the Hall of Fame someday. He deserves it."
***
Coryell was a quirky character, which probably also hurts him with some Hall of Fame voters that have failed to understand his mad genius.
He was a players' coach, although Dierdorf said he first raised eyebrows upon arriving in St. Louis. Back then players worked off-season jobs to make end meets. There weren't off-season training programs and mini-camps. So training camp was essentially their first exposure to Coryell.
"I had never heard of him," Dierdorf said. "We didn't know a lot about him. In those days, there weren't many college games on TV, and San Diego State wasn't one of them."
When the Cardinals gathered for the first day of training camp, Coryell had been told in order to enforce team fines he had to read the infractions and the amount to the players.
"He gets up there and reads a list of fines: '$25 if you miss breakfast, $50 if you miss lunch, $100 if you miss dinner.' Let me tell you, in 1973, $25 was real money."
Dierdorf raised his hand to comment.
"He glared at me like he does," Dierdorf recalled. "I immediately thought, 'This was a mistake.' I distracted him from where he wanted to go next.
"I said, 'Coach a lot us don't eat a big breakfast and then go out on the practice. It's not conducive to practicing 2 ½ hours on a full stomach.' He looked at me like, 'How dare you interrupt me!' But then he said something that had us ready to run through a brick wall for him.
"He said, 'Hell, I don't care if you eat breakfast, lunch and dinner!' Then he tore up the fine list. From that moment forward we would have followed him anywhere — as silly as that sounds."
* * *
As Dierdorf said, they didn't know much about Coryell from his San Diego State days. They soon learned. They played their second exhibition game against the Chargers on Aug. 11, 1973 at San Diego Stadium.
"In those days the second preseason game of six was hardly anything to get excited about," Dierdorf said. "We're in the locker room expecting to play before another crowd of something like 10,000 fans.
"Well, we walked out on the stadium floor, and the place was packed. The entire stadium stands up and goes wild with cheers. It took us a few seconds to realize, 'Oh, my God, they're here for Coryell! This guy is popular here.' We had no idea. It was a real eye opener. We knew there weren't many Cardinals fans in La Jolla."
For the record, the Cardinals won 17-13 before a listed attendance of 40,466. The attendance was typical for the Chargers, but the roars for Coryell as the visiting Cardinals took the field stuck in Dierdorf's memory.
Coryell would be back in San Diego five years later, hired to replace dismissed Tommy Prothro five games into the Chargers' 1978 season.
He quickly turned around the franchise, similar to his time in St. Louis. He added to his resume that Dierdorf, Fouts, Madden, Gibbs and many others say is worthy of the Pro Football Hall of Fame.
-30-